About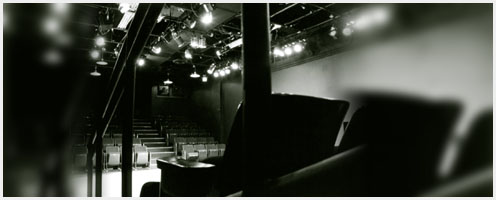 Creating theatre that matters since 1984
Pacific Theatre aspires to delight, provoke and stimulate dialogue by producing theatre that rigorously explores the spiritual aspects of human experience. In over 30 seasons, Pacific Theatre has produced more than 120 professional mainstage productions ranging from established works to original world premieres featuring some of the top theatre artists from Vancouver and across the continent.
---
Company History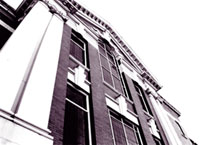 Established in 1984 by a group of actors who wanted to establish a non-propagandist professional theatre where they would be free to explore work having particular meaning to them as Christians, Pacific Theatre moved into its current home at Hemlock & 12th on October 14, 1994. Right in the heart of Vancouver, the new space features Vancouver's only 128-seat alley-style theatre and is located in the historical Chalmers Heritage Building (now owned by Holy Trinity Anglican Church).
In addition to its mainstage resident theatre the company toured for five years with The Dragon's Project, theatre primarily for young audiences. Over 650 school and community performances reached an audience of 160,000 students and adults in British Columbia with plays encouraging students to avoid substance abuse and challenging the addicted to seek recovery. Pacific Theatre's 2003 school matinee production of The Lion, the Witch and the Wardrobe was seen by over 10,000 students, including more than 1,000 from Vancouver's Sunrise Area schools whose tickets and personal copies of the novel were paid for through an innovative partnership with the Vancouver Public Schools Foundation and CIBC Wood Gundy Caring for Kids Fund.
See Pacific Theatre's production history here.
---
A Community-minded Professional Theatre
Alongside its professional work, Pacific Theatre is committed to maintain a community component, fostering new work and established plays, develop emerging artists, create an artistic home for established practitioners, and engage the community at large.
Pacific Theatre's apprenticeship program is a major component of its mandate to develop emerging artists and foster new work. Every season the theatre brings in a handful of up-and-coming theatre artists who are given training and opportunities to develop as professional artists. Features of the apprenticeship program include involvement in mainstage and second stage events, opportunities to shadow or understudy our professional artists, workshops, and the operation of Stone's Throw Productions, our non-professional counterpart. Many apprentices have gone on to pursue professional careers as actors, writers, directors, stage managers, technicians, designers, and administrators. Pacific Theatre's first-ever apprentice was local playwright and actress Lucia Frangione, and in 2011 apprentice Evan Frayne won the Sam Payne Award for Most Promising Newcomer.
Throughout the past 28 years Pacific Theatre has developed countless new plays through in-house readings and workshops, bringing many of them to their world premieres. Such plays include Espresso, A Bright Particular Star, Prodigal Son, Navy Wife, Tent Meeting, Cariboo Magi, Mercy Wild, and Book of the Dragon, many of which have gone on to subsequent runs at other professional theatres around the world.
Pacific Theatre has always made an effort to work with a variety of artists and other companies in Vancouver, including guest productions, co-productions, and presentations in its seasons as collaborators. Often times, these companies find their time working with Pacific Theatre to be a launching pad towards creating innovative and artistically strong contributions to Vancouver's theatre community. Companies Pacific Theatre has worked with or mentored include Glass City Theatre, One2Theatre, Midnight Theatre Collective, Touchstone Theatre, Pound of Flesh Theatre, and Reid Farrington (New York).
---
Finally, Our Mission Statement
Pacific Theatre exists to serve Christ in our community by creating excellent theatre with artistic, spiritual, relational and financial integrity.
---
Accolades
Since opening the new space in 1994, The Jessie Richards Theatre Awards Society has extended 103 nominations to the 48 eligible productions that have graced the Pacific Theatre stage. Winning productions include:
Agnes of God (1998-1999 season)
Master Harold… & the Boys (1999-2000 season)
The Lion, the Witch, and the Wardrobe (2003-2004 season)
The Farndale Christmas Carol (2004-2005 season)
Prodigal Son (2004-2005 season)
Grace (2006-2007 season)
A Bright Particular Star (2006-2007 season)
The Lion, the Witch, and the Wardrobe (2009-2010 season)
Playland (2010-2011 season)
Jesus Hopped the 'A' Train (2010-2011 season)
The Busy World is Hushed (2010-2011 season)
Significant Artistic Achievement: Curation and Execution of an Outstanding Season of Theatre (2010-2011 season)
How to Write a Book for the Bible (2012-2013 season)
The Foreigner (2013-2014 season)
The Seafarer (2013-2014 season)
The Whipping Man (2014-2015 season)
Other Awards
In June, 2004, Pacific Theatre was voted "One Of Vancouver's Favourite Live Theatres" in the Stars of Vancouver Readers' Choice Awards, Vancouver Courier.
From 2008-2010, Pacific Theatre has consistently placed in the top three in The Westender's Reader's Choice Awards.