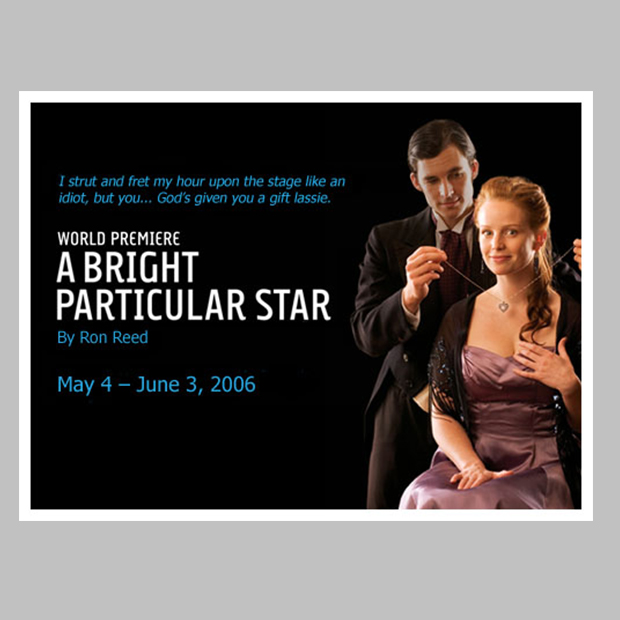 Showtimes
Wednesdays-Saturdays 8pm
Saturday matinees 2pm
Preview May 4, 8pm (tickets only $10)
Opening May 5, 8pm
Talk Back Night – discussion with artists Friday, May 12
Special Showings
May 4 — Jun. 3
A Bright Particular Star
by Ron Reed
"Compelling, worthwhile, truly affecting… Rebecca deBoer is luminous in the role of Lilia." – Jo Ledingham, The Vancouver Courier
"A wholly holy conflict… Lilia [is] played brilliantly by the very talented Rebecca deBoer." – Charles Demers, Westender
"A smooth, well-paced production… a true realization of the brilliant script." – Jane Penistan, reviewvancouver.org
"Filled with humor and insight" – Matt Malyon, Image Journal
"I must say you have a bright particular star in Rebecca… Both Bob Frazer and I were bowled over by her luminosity… That's a fairly rare quality. Anyway, lovely work on the piece… I found it very moving on several levels, and, as I told the cast last night, it made me happy and proud to do what I do." – Donald Adams, actor (played the father in PRODIGAL SON, Bob Frazer played Barclay)
"Thank you for the excellent play written & directed. The evidence of 'God's hand in the writing' was self-evident… The truth spoke in thought, word, and action; love, grace, freedom, & beauty." – Bruce Johnson, Pastor, Emmanuel Church
"What a great play! Fantastic, thought provoking, deep… I think this play and its presentation typifies for me what I know the real Pacific Theater to be! A high note – we shall subscribe next year again!" – Tony Sanz, PT subscriber
"When the play ended, I couldn't speak… My entire family agreed that A BRIGHT PARTICULAR STAR is the best play we have ever seen."
– Kirsty Provan, actor (in last year's 80-minute HAMLET at PT)
————————————————————
Victorian social mores forbid Lilia MacDonald from following her theatrical passions, but will they stop her? Pacific Theatre proudly presents the WORLD PREMIERE of A BRIGHT PARTICULAR STAR by award-winning playwright Ron Reed—a rich exploration of even the best of parents' failures and the beauty within one strong-willed daughter—running May 4 to June 3 at Pacific Theatre in Vancouver.
World-renowned author George MacDonald and family—Victorian hippies of a sort—take their homemade stage productions on tour across Europe. His daughter Lilia is swept up by the exhilaration of a life in the theatre—spurred on by family friends Mark Twain, Lewis Carroll and even London stage luminary Kate Terry. But faced with competing family expectations, blossoming romance, and an urge to serve London's poor, can Lilia justify so frivolous a passion?
Proper Victorian society perceived actresses as glorified sex trade workers, whereas Lilia's work on behalf of London's teeming underclass was celebrated. Even today, aspiring theatre artists routinely meet opposition to their vocation from practical-minded parents and overly-cautious religious communities. A BRIGHT PARTICULAR STAR investigates these well-meaning attempts to control others.
The MacDonalds were rooted in a profound, unconventional Christian faith and they had connections to both the Pre-Raphaelite and Aesthetic movements in art and literature. The brilliant author of the Chronicles of Narnia has said: "I regard George MacDonald as my master; indeed, I have never written a book in which I did not quote from him." —C.S. Lewis
Playwright Ron Reed began work on A BRIGHT PARTICULAR STAR six years ago, with extensive research into the history of George MacDonald's remarkable family and their world-class circle of friends. Artistic Director and founder of Pacific Theatre (1984), Reed received the Chalmers Canadian Play Award in 1997 for Book of the Dragon, and Tent Meeting (a collaboration with Morris Ertman) was nominated for Toronto's Dora Mavor Moore Award and Edmonton's Sterling Award as Outstanding New Play.
A BRIGHT PARTICULAR STAR is also directed by Ron Reed (The Lion, the Witch and the Wardrobe Pacific Theatre hold-over cast), and this Emerging Artist Showcase features Rebecca deBoer as Lilia MacDonald (Halo, PT), Kyle Jespersen as George MacDonald (Six Miniature Tragedies, Studio 58/PuSh Festival), Dan Amos (Shadowlands, PT), Jacqui Hoke (A Rattling Sound, Stone's Throw/PT), Ryan Hoke (The Elephant Man, Five Bob Equity Co-Op), Lori Kokotailo (The Hungry Season, PT), Candice Lindsay (As It Is In Heaven, TWU), Kathleen Parsons (Waiting for Godot, York U) and Stephen Waldschmidt (Chickens, PT).
Set design is by Stephen Waldschmidt (Leaving Ruin, PT), lighting design is by Mike Dickinson, costume design is by Nicole Bach (Jessie nomination: Chickens), sound design is by Dan Amos (Last Train to Nibroc, PT), with stage management by Lois Dawson.
Join Our Newsletter