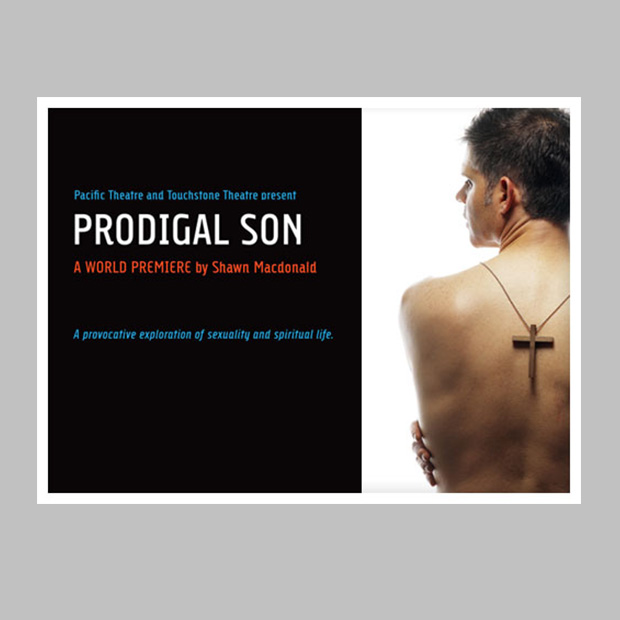 Showtimes
Tuesdays-Saturdays 8pm
Saturdays-Sundays 2pm matinee (no show April 4)
Extra Show: Monday, April 3 - All Tickets 2-FOR-1 | $10 Tickets when you mention World Theatre Day - March 26 & 28
Talk Backs every Friday with playwright Shawn Macdonald, members of the cast, and Pacific Theatre's Artistic Director Ron Reed to facilitate conversation
Special Showings
Mar. 15 — Apr. 9
Prodigal Son
by Shawn MacDonald
Pacific Theatre and Touchstone Theatre proudly present the WORLD PREMIERE of PRODIGAL SON by Shawn Macdonald, a provocative new play that explores issues of faith, family and sexuality.
As his conservative Catholic father nears death, a gay man is shaken by bewildering religious epiphanies. Peter returns to Quebec and his estranged family seeking some connection, his world torn apart by irreconcilable conflicts and a longing for the innocent faith of his childhood.
PRODIGAL SON is Shawn Macdonald's moving exploration of the no man's land between homosexuality, spirituality and the Catholic Church. While the events of the play are fictional, it was born out of the playwright's own experiences growing up in a devout Catholic family and as a part of the Anglophone minority in Quebec City. It also mirrors Macdonald's own struggle for a sense of spirituality as a gay man raised in the Catholic tradition. PRODIGAL SON is his first full length play—a truly home-grown, Canadian creation.
Directed by Touchstone's Artistic Director Katrina Dunn, PRODIGAL SON debuts with the support of an extraordinary roster of acting talent: Donald Adams (Little Mercy's First Murder, Touchstone), Gina Chiarelli (currently nominated for the Genie Award for Best Actress in the film See Grace Fly), Craig Erickson as Peter (Stanley in A Streetcar Named Desire, Chemainus Theatre Festival), Bob Frazer (the tile role in Hamlet, Bard on the Beach) and Christine Willes (Homeward Bound, Gateway Theatre).
PRODIGAL SON also features Camille Beaudoin, Michael Gunion and Alex Pimm, with set design by Yvan Morissette, lighting design by John Webber, costume design by Farnaz Khaki-Sadigh, sound design by Paul Moniz de Sá, with Rachel Ditor as dramaturg, and stage management by Robin Bancroft-Wilson.
As an actor, MacDonald is a magnetic presence on Vancouver stages, winning a Jessie Award for his performance in The Dishwashers last season (Arts Club). Macdonald also co-authored (with Gary Jones) two hit comedies for the Arts Club: World's Greatest Guy (winner of the Jessie Award for Outstanding Original Script) and Fear Knot, his partly improvised one-man show. Macdonald has received numerous awards for his acting, and his playwriting debut is a theatrical event not to be missed.
PRODIGAL SON was developed as part of Touchstone Theatre's Playwright in Residence Program, in partnership with the Playwrights Theatre Centre. This co-production by Touchstone Theatre and Pacific Theatre marks a fresh collaboration by two of Canada's most significant theatre companies.
Join Our Newsletter