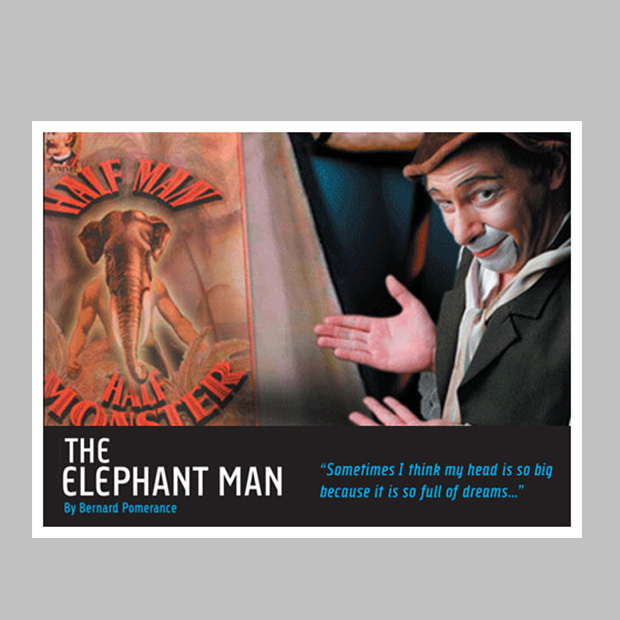 Showtimes
Wednesdays - Saturdays 8pm
Saturday matinees 2pm
Preview October 20 8pm
Special Showings
Oct. 21 — Nov. 12
The Elephant Man
by Bernard Pomerance
"See Mother Nature uncorseted and in malignant rage! Step in and see! The monster! The Man! John Merrick – The Elephant Man! Witness the incapacitating deformities, the unremitting pain, the cruelly lacerating expressions of horror and disgust from all who behold him!"
1884. John Merrick is rescued from the brutalities of a London freak show. As this gentle monstrosity becomes the toast of Victorian society, his ambitious saviours are confronted with the deformities of their own souls. A searching classic of the contemporary stage.
"Fiercely uplifting and brutally sad… a triumph!" – The Boulder Weekly
Five Bob Equity Co-op brings this true Beauty within the Beast story to life on the Pacific Theatre stage with a moody circus of magic, misshapenness and morality: the Tony award-winning play The Elephant Man by Bernard Pomerance.
Five Bob Equity Co-op is an assemblage of some of Vancouver's finest talent (including Annabel Kershaw, William Samples, Damon Calderwood, Anthony F. Ingram, Sarah May Redmond, Brahm Taylor, Rhys Lloyd, and Ryan Hoke) that has come together to bring a new look to this modern classic.
Directed by the effervescent Sarah Rodgers, with set design by Tara Arnett, lighting design by Adrian Muir, costume design by Sheila White, original music by Karin Konival, and stage management by Krista Sung, Five Bob Equity Co-op brings The Elephant Man to open Pacific Theatre's 2005-2006 Season!
Join Our Newsletter