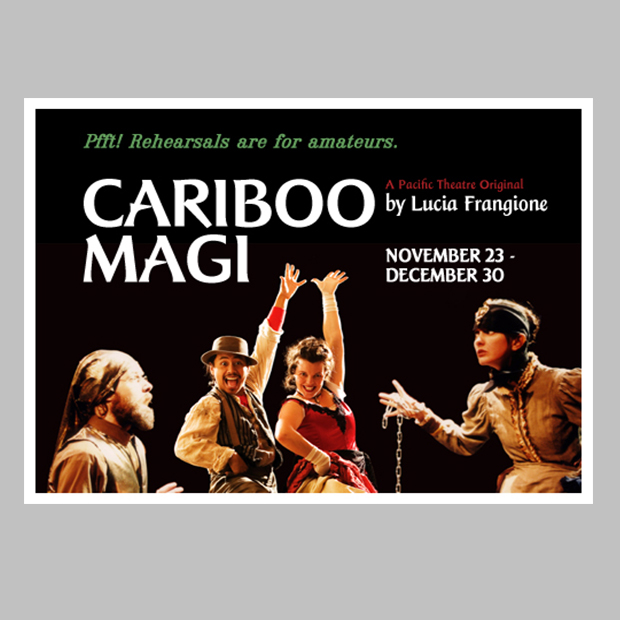 Showtimes
Wednesdays-Saturdays 8pm
Saturday matinees 2pm
Preview Nov. 23, 8pm PAY-WHAT-YOU-CAN at the door! ($10 in advance)
Opening Nov. 24, 8pm
Talk Back Night – discussion with artists Friday, Dec. 1
ADDED FAMILY MATINEES: Dec. 27 & Dec. 28, 3pm - PLEASE NOTE LATER START TIME
Special Showings
Nov. 23 — Dec. 30
Cariboo Magi
by Lucia Frangione
"Pfft! Rehearsals are for amateurs."
St. Luke meets Shakespeare, Dickens, Dancing Girls, and the Last of the Mohicans in Pacific Theatre's revival of CARIBOO MAGI, by Vancouver resident and award-winning actress/playwright, Lucia Frangione (Holy Mo, Espresso, Wobbling Madonna). Playing to sold-out houses in 2001, the newly-published CARIBOO MAGI (Talonbooks, 2005) brings audience members a Christmas story that is at turns provocative, witty, outrageous, and beautifully profound.
This ridiculous romp from 1870s San Diego to Barkerville, BC during the heart of goldrush fever features the comic talents of Dirk Van Stralen (She Stoops to Conquer, Chemainus Theatre), Donna Lea Ford (Cariboo Magi, Pacific Theatre, 2001), and Lucia Frangione (Julius Caesar, Mad Duck Collective) as the unforgettable Madame Fanny Dubeau, the owner of a reputable but financially desperate saloon in Old Town, San Diego. They are joined by Parnelli Parnes (A Midsummer Night's Dream, Bard on the Beach) as the energetic, self-proclaimed poet, Joe Mackey, whose desire to write poetry is stronger than his talent. His hilarious verse serves as the narration for this sensational holiday show.
This new production of CARIBOO MAGI is directed by actor and renowned comic-director, Kerry VanderGriend (who directed the hit comedies The Farndale…Christmas Carol and Chickens at Pacific Theatre). He is joined by a phenomenal crew, with costume design by Nicole Bach, and Kevin McAllister as Scenery Designer. Also on board are Erin Harris as lighting designer, Spencer Capier on sound design, Lauchlin Johnston as propsmaster, and Connie Hosie as Stage Manager. With a cast and crew of this calibre, the show is bound to be a visual and verbal holiday feast.
Back by popular demand, Pacific Theatre is thrilled to present a new production of a show lauded by Vancouver theatre critics:
"Devilish wit, deep religion, sheer audacity… I cried. I laughed. And I thought.
Who could ask for more?"
—Colin Thomas, The Georgia Straight
"Warm and wicked. A yuletide laughfest that's not to be missed."
—Peter Birnie, The Vancouver Sun
Audience Advisory – click here for details
Join Our Newsletter