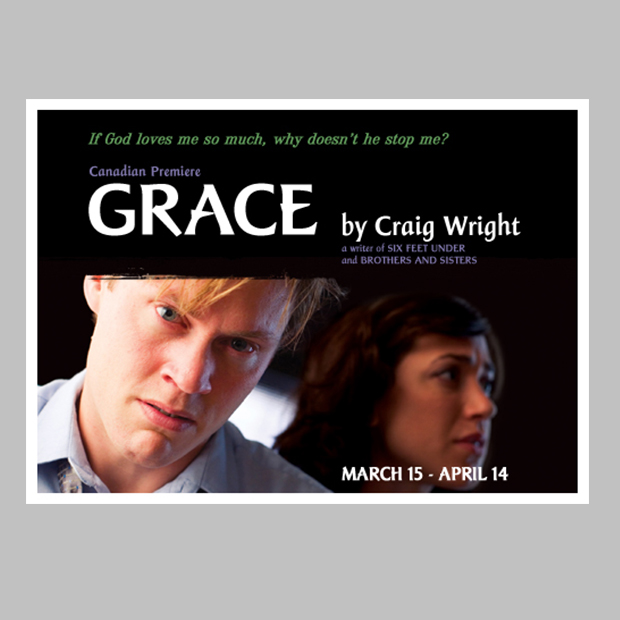 Showtimes
Wednesdays-Saturdays 8pm
Saturday matinees 2pm
EXCEPT NO SHOWS at 8pm due to holidays on Thurs, Apr 5; Fri, Apr 6; and Sat, Apr 7.
Sat, Apr 7's 2pm matinee still playing!
Preview Mar. 15, 8pm PAY-WHAT-YOU-CAN at the door! ($10 in advance)
Opening Mar. 16, 8pm
Talk Back Night – discussion with artists Friday, Mar. 23
Special Showings
Mar. 15 — Apr. 14
Grace
by Craig Wright
An empty Florida condo, two dead bodies, a bizarre resurrection… Things are never what they seem in this examination of a zealous Christian couple, their disfigured neighbour, and the way religious ideas make sense – and sometimes nonsense – of life's events.
Pacific Theatre is proud to present the Canadian premiere of GRACE, by Craig Wright (photo at left), noted for his writing contributions to HBO's Six Feet Under, and ABC's Lost and Brothers and Sisters.
Acclaimed as "the most controversial, talked-about show of the year" (Tom Williams, Theater in Chicago), this examination of love and betrayal runs at Pacific Theatre March 15 – April 14. The play stars Craig Erickson (Peer Gynt, Prodigal Son), Alexa Devine (Jessie Award winning The Big League), and Kerry van der Griend (Lonely Planet). Pacific Theatre is also delighted to announce Jessie Richardson winner Duncan Fraser (The Birthday Party, No Great Mischief) in the role of Karl.
This first-rate cast is directed by Angela Konrad (Last Train to Nibroc) and joined by Stephen Waldschmidt (scenery design), Jeff Harrison (lighting design), Dan Amos (sound design), Francesca Albertazzi (costume design), and Sarah Pearson (stage management).
"Surely the most controversial and talked-about show of the year. Riveting, explosive, with biting humor. Highly recommended."
—Tom Williams, Theatre In Chicago
"Amazing GRACE! Powerful, scorching drama, a virtual dream. One of the best new plays this year… an immensely talented writer."
—Jolene Munch, Metro Weekly, Washington D.C.
Strong Audience Advisory – click here for details
Join Our Newsletter