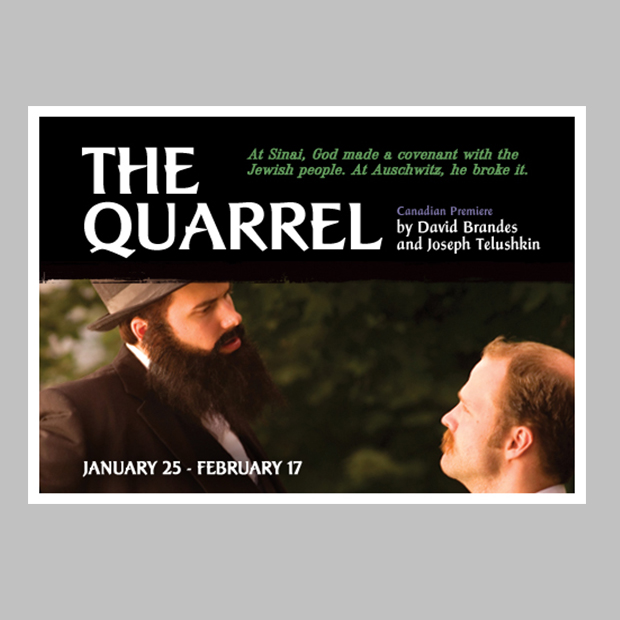 Showtimes
Wednesdays-Saturdays 8pm
Saturday matinees 2pm
Preview Jan. 25, 8pm PAY-WHAT-YOU-CAN at the door! ($10 in advance)
Opening Jan. 26, 8pm
Talk Back Night – discussion with artists Friday, Feb. 2
Special Showings
Jan. 25 — Feb. 17
The Quarrel
by David Brandes & Joseph Telushkin
At Sinai, God made a covenant with the Jewish people. At Auschwitz, he broke it.
Produced by Midnight Theatre Collective, in association with Pacific Theatre.
1948. The turmoil of World War Two continues when two childhood friends meet on a park bench in Montreal. In the wake of events that devastated their families, they struggle to find common ground—one has lost all faith in God, the other any hope in mankind. A story of hope and friendship in the face of genocide.
Featuring Dan Amos and Nathan Schmidt. Morris Ertman, director. Set design by Stephen Waldschmidt, lighting design by Graham Bedwell, sound design by Luke Ertman, with stage management by Charlene Crawford.
"Excellent! A war of the spirit on a battleground of ideas." —Michael Wilmington, L.A. Times
"A rare triumph! Confronts guilt and justice in a compelling drama." —Rabbi Harold Kushner
Mild Audience Advisory – click here for details
Join Our Newsletter