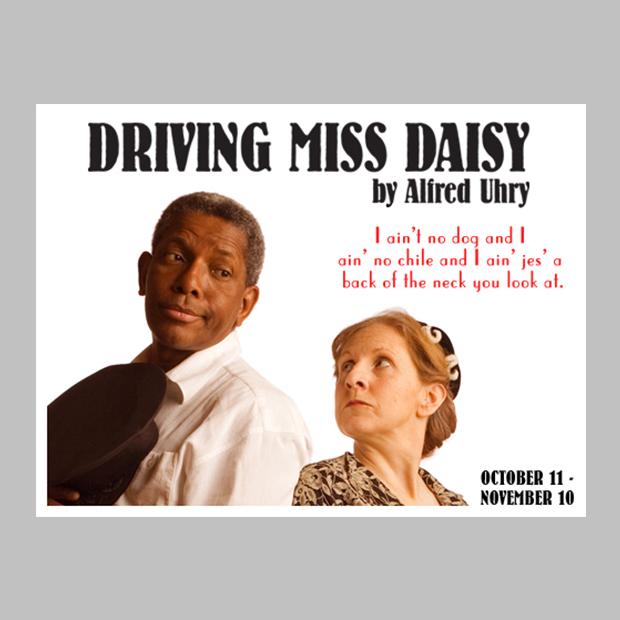 Showtimes
Wednesdays-Saturdays 8pm, Saturday matinees 2pm
Preview Oct. 11, 8pm PAY-WHAT-YOU-CAN at the door! ($10 in advance)
Opening Oct. 12, 8pm
Talk Back Night – discussion with artists Friday, Oct. 19
Special Showings
Oct. 11 — Nov. 10
Driving Miss Daisy
by Alfred Uhry
The March on Washington. Flower Power. Martin Luther King, Jr. Against a backdrop of triumph and pain is set a story of stubbornness, independence, and the gentle evolution of a most unlikely friendship.
It is 1948 in Atlanta, and an independent, aging Jewish widow – disagreeable as the dull thud of a toothache – reluctantly surrenders the driver's seat to Hoke Coburn, a proud, soft-spoken black man and a Southern Baptist who, over the course of 25 years, becomes not only her chauffeur, but against all odds, her best friend.
Winning the Pulitzer Prize for Drama, DRIVING MISS DAISY was adapted for the silver screen in 1989, but has remained vibrant on stages across England and North America for nearly two decades. Pacific Theatre is proud to open its 24th main stage season with this award-winning masterpiece, and delighted to bring back to its stage the tremendous talents of Jessie Richardson Award winning Tom Pickett (Master Harold and the Boys) and Jessie Richardson five-time nominee, Erla Faye Forsyth (Voice of the Prairie, Twelfth Night), along with Paul Moniz de Sá (The Lion, the Witch and the Wardrobe).
Directed by Sarah Rodgers (Five Bob Co-op's production of The Elephant Man), with scenery design by Kevin McAllister (Cariboo Magi), and sound design by Steven Bulat, DRIVING MISS DAISY is a primer in longsuffering, love, and the ability to change one's mind.
"A duet marked with unaffected grace and generosity of spirit, medium-size miracles and changed minds." –Washington Post
"A miniature with power far beyond its size. Worth the drive from anywhere." –New York Daily News
Join Our Newsletter