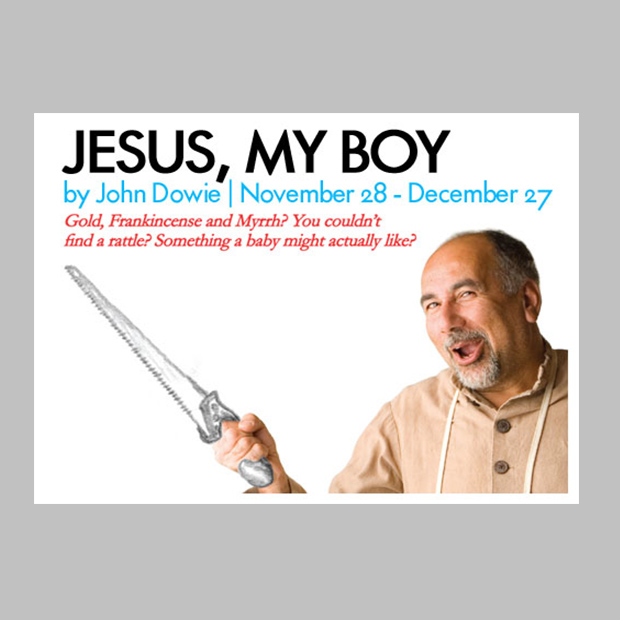 Showtimes
Wednesdays-Saturdays 8pm, Saturday matinees 2pm
Preview Nov. 27, 8pm, PAY-WHAT-YOU-CAN at the door! ($11 advance)
Opening Nov. 28, 8pm
Talk Back Night – discussion with artists Friday, Dec. 5
SPECIAL CHRISTMAS SHOWS: Monday Dec. 22 8pm Tuesday Dec. 23 8pm Wednesday Dec. 24 2pm No show Thursday (Christmas) Friday Dec. 26 2pm AND 8pm Saturday Dec. 27 2pm AND 8pm
Special Showings
Nov. 28 — Dec. 27
Jesus, My Boy
by John Dowie
Just when you were thinking the Christmas story – the one from the Bible – was growing somewhat dusty, Pacific Theatre has brought it back to life with JESUS, MY BOY, a comic reminiscence about parenthood, carpentry and the coming of the Messiah.
Playing November 28 – December 27, JESUS, MY BOY is a soliloquy of Yuletide cheer, written by John Dowie – a stand-up comic in the tradition of Woody Allen (minus the glasses and with a little less angst). Pacific Theatre's production – and Canada's premiere – features David Adams (Stuff Happens) and is directed by Sarah Rodgers (Driving Miss Daisy).
Adding earthy mystery to this "Gospel According to Joseph," and woven throughout this warm and funny piece, is the evocative music of sheree plett and Jeremy Eisenhauer. This singer/songwriter duo has performed around North America, and will be presenting a combination of original and beloved Christmas pieces that will both delight and move you.
You will laugh and maybe even cry at this witty, affectionate, and thoroughly absorbing one-man show that has played around the world, from from London's West End to Tel Aviv.
"Deeply poignant and wickedly funny, full of light humour and deep pain.
It is, in short, a triumph." Edinburgh List
Join Our Newsletter