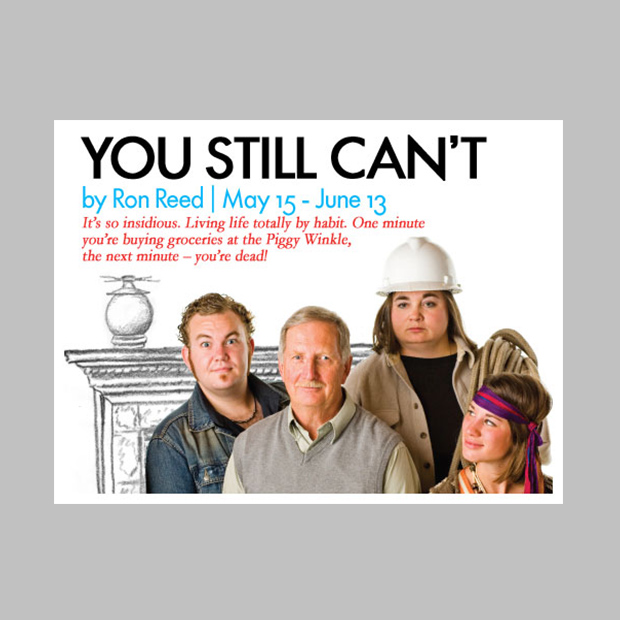 Showtimes
Wednesdays-Saturdays 8pm, Saturday matinees 2pm
Preview May 14, 8pm, PAY-WHAT-YOU-CAN at the door! ($11 advance)
Opening May 15, 8pm
Talk Back Night – discussion with artists Friday, May 22
Special Showings
May 15 — June. 13
You Still Can't
by Ron Reed
Sixty years ago, Tony Kirby was grafted by marriage onto the wildly eccentric Sycamore-Vanderhof family tree. Now he presides over that same charming New York brownstone as the children and grandchildren of those original characters gather from all around the world for the funeral of… Well, everybody loved him, but nobody ever thought to ask his name.
A Pacific Theatre original, with all the romance, affection and benevolent anarchy of the Kaufman & Hart classic YOU CAN'T TAKE IT WITH YOU.
An Emerging Artist Showcase. Directed by Ron Reed. Co-produced with Theatre at TWU.
Featuring Glen Pinchin, Katherine Gauthier, Alexandra Voicu, Mackenzie Gordon, Shalyn McFaul, Deb Sears, Christie Maxson, Andrea Lowen, Laura VanDyke, Philip Miguel, Brett Ziegler, Tim Bratton, Byron Noble, and Kyla Ferrier.
Join Our Newsletter