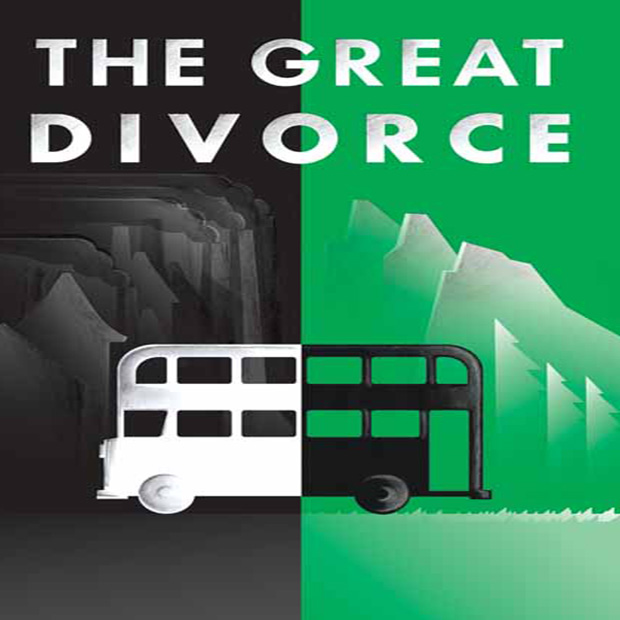 Showtimes
Wednesday-Saturday Nights at 8pm, Saturday matinees 2pm
No matinee performance Saturday, May 28th
Special Showings
May 19, 8pm: Preview Performance (pay-what-you-can at door)
May 27, 8pm: Artist Talkback
May 20 — Jun. 18
The Great Divorce
adapted from the novel by C.S. Lewis by George Drance & The Magis Theatre
Hell resembles nothing so much as a dreary industrial city in the north of England, its denizens free to leave whenever they like — aboard a bus bound for a heaven that's like nothing you've ever imagined. A theologically dazzling journey studded with memorable characters, mind-spinning dialogue and images of human folly and sublime hope that will forever change the way you see eternity.
Director: Kyle Rideout.
Cast: Evan Frayne, Philip Miguel, Jeff McMahan, Kirsty Provan, Kyla Ferrier, Sarah Weiner, Holly Pillsbury, Matthew Beairsto
Stephanie Elgersma, Brandon Adam Bate, Julie Casselman, and Lyndon Johnson.
Narnia for adults! Beatific, bright-clad, incorruptible spirits are pitted against flawed, monochromatic ghosts. It's not a fair fight.
~Seattle Weekly
Challenges not only the ear and the brain but the heart and the soul.
~Seattle Post-Intelligencer
EMERGING ARTIST SHOWCASE: A PACIFIC THEATRE PRODUCTION
Join Our Newsletter