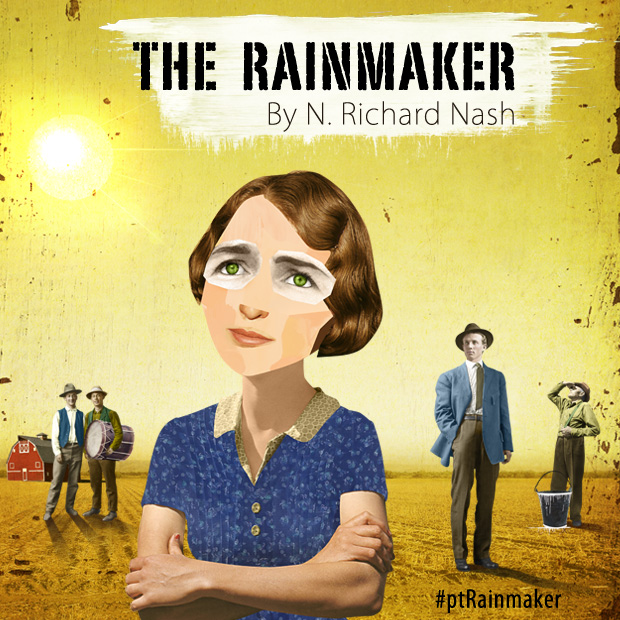 Showtimes
Wednesday-Saturday at 8pm with 2pm matinees Saturdays
Running time: approximately 140 mins with two 10 minute intermissions
Special Showings
Oct 9: Pay-What-You-Can Preview
Oct 11: Subscriber Appreciation Saturday (following matinee)
Oct 17: Artist Talkback
Oct 18: Theatre Club (following matinee)
Oct 10-Nov 1
The Rainmaker
by N. Richard Nash
Lizzie's hopes and dreams have run as dry as the barren fields of her family's drought-ridden ranch. When the charismatic Starbuck appears one windless night selling the promise of rain, Lizzie must decide: is he a con man, or does he hold the key to everything she desires? A beautifully crafted prairie romance about faith, hope, and the possibility of love.
Director: Ron Reed.
Featuring: Peter Church, Kenton Klassen, Pippa Johnstone, Ryan Scramstad, Andrew Wheeler, John Voth, Robert Salvador.
Set Design by John Webber. Lighting Design by Matt Frankish. Costume Design by Sydney Cavanagh. Properties Management by Carolyn Rapanos. Stage Management by Shelby Bushell.
"As refreshing as a summer thunderstorm. Overflows with wry wit and unabashed optimism." Chicago Tribune
"One of those heartfelt, honest plays that will stir your belief in the human spirit." Chicago Critic
Join Our Newsletter