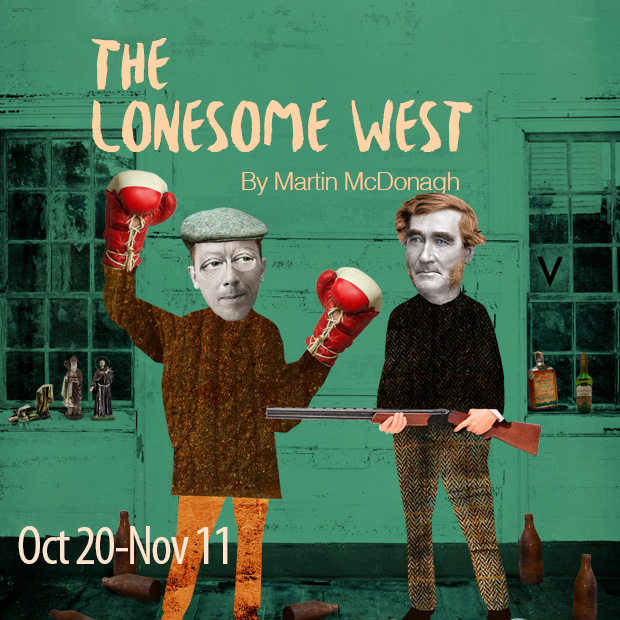 Showtimes
Weds-Sat at 8pm with 2pm Sat matinees
Running Time: approx. 135 mins with one 15-minute intermission
Special Showings
Pay-What-You-Can Preview: Thurs, Oct 19
Artist Talkback: Friday, Oct 27
Oct 20-Nov 11
The Lonesome West
by Martin McDonagh
Brothers Coleman and Valene can't seem to co-exist without sudden outbreaks of violence over the pettiest concerns. When their doubt-ridden parish priest attempts to bring reconciliation, their confessions quickly turn from earnest offerings into weapons in a hilarious and dark race to the bottom.
What is the cost of forgiveness?
"Both hilarious and viscerally exciting." – Daily Telegraph
ADVISORY: Graphic language, slurs, onstage violence, and dark themes. For more information, visit the Audience Advisories page, or call our box office at 604-731-5518.
WATCH OUR TRAILER!

Directed by Evan Frayne. Featuring John Voth, Kenton Klassen, Sebastien Archibald, and Paige Louter.
Set Design by Sandy Margaret. Lighting Design by Phil Miguel. Sound Design by Matthew MacDonald-Bain and Curtis Tweedie. Costume Design by Kaitlin Williams. Stage Management by Shelby Bushell. Assistant Stage Management by Maddie Walker.
A GUEST PRODUCTION BY CAVE CANEM PRODUCTIONS
Join Our Newsletter