Rentals
Pacific Theatre is occasionally able to open up its space to other theatre companies as a rental venue and offer use of its resources to other producers. The productions themselves are entirely independent and not associated with Pacific Theatre's programming.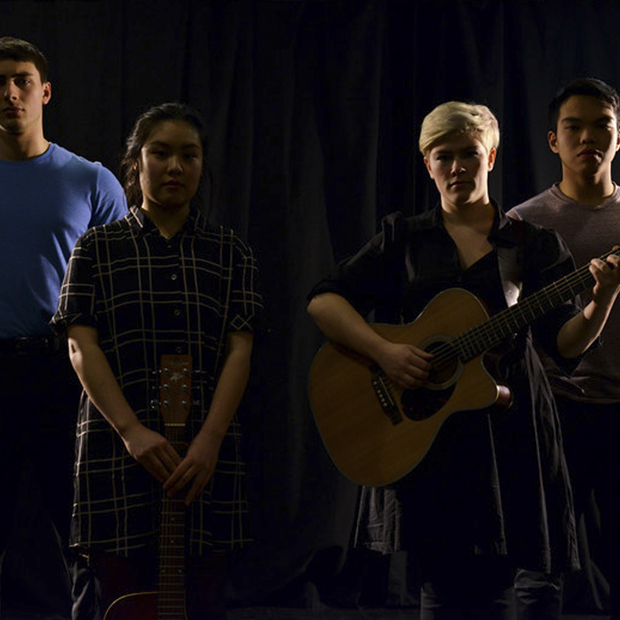 Dogfight by Pasek and Paul
March 16-19
a Semper Fi Collective in association with Renegade Arts Company Production
The Pasek and Paul musical is returning to Vancouver for only Five performances at Pacific Theatre from March 16-19.
The hauntingly beautiful musical Dogfight by Pasek and Paul (Edges, James And The Giant Peach, A Christmas Story) and Peter Duchan, was praised by countless critics and nominated for numerous awards and won the Lucille Lortel Award for Best Musical. Based on the 1991 Warner Brothers film, Dogfight takes audiences on a romantic and heartbreaking theatrical journey that stays with you long after the performance. It's November 21, 1963. On the eve of their deployment to a small but growing conflict in Southeast Asia, three young Marines set out for one final boys' night of debauchery, partying and maybe a little trouble. But when Corporal Eddie Birdlace meets Rose, an awkward and idealistic waitress he enlists to win a cruel bet with his fellow recruits, she rewrites the rules of the game and teaches him the power of love and compassion.
AUDIENCE ADVISORY: STRONG LANGUAGE AND MILD SEXUALITY.
This new production is also directed by Chris Lam (Jessie nominee and Ovation winner), musically directed by Peter Abando (Off Key Musical Improv) set design by Carolyn Rapanos (Common Grace), lighting design by Jonathan Kim (The Amish Project).
This new presentation features double casting of the leads, playing on alternate nights respectively: Stuart Barkley (Les Miserables), Sara Vickruck (Love Bomb) Justin Lapena (King and I), and Amanda Sum (Vancity Idol)
The ensemble consists of: Mark Dozlaw (OC Musical), Zac Beardsley (The It Girl), Matt Montgomery (Heathers the Musical) Kai Bradbury (Oliver), Jess Amy Shead (Buddy: The Buddy Holly Story), Lissa Neptuno (Lucifer, Effect of Gamma Ray), Sabrina Prada (Carrie: The Musical), Ray Boulay (Jesus Christ Superstar)
Alternate Casting Details:
Preview night-Sara Vickruck/Justin Lapena
Opening night- Amanda Sum/Stuart Barkley
Thursday night- Sara Vickruck/Justin Lapena
Friday Night-Amanda Sum/Stuart Barkley
Saturday matinee- Sara Vickruck/Justin Lapena
Saturday evening-Amanda Sum/Stuart barkley
Get tickets here.