Apprenticeships
Now accepting applications for the 2018-2019 season. Applications due by March 30, 2018.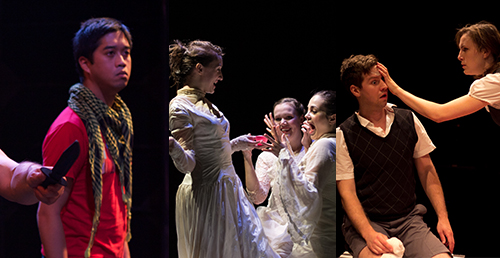 Pacific Theatre offers a full-time professional apprenticeship program for emerging artists who are looking to build a bridge between academia and the professional marketplace. The Company Apprenticeship is composed of three primary, intersecting categories of activity:
---
Administrative
A significant portion of the apprentice's time will be spent working on assigned administrative tasks, mostly in the capacity of Box Office and Front-of-House staff, as well as potential mentorships with specific administrative roles (community engagement, marketing, development). These hours will ebb and flow as the production cycle progresses, often culminating in weeks of long administrative hours followed by open weeks to work on artistic endeavours.
---
Production
Apprentices will be periodically required by the Production Manager to participate in crew calls for lighting, construction and strike. Such calls will take place outside of scheduled administrative time.
---
Artistic
Depending on the specific needs of the season, apprentices are invited to participate artistically in mainstage productions both in areas they are interested in pursuing, and areas which will round out the apprentice's experience in professional theatre. This work may include: acting or understudying in a mainstage production, training and mentorship sessions with company artists, providing hands-on assistance to costume, lighting and/or set designers, designing lights or sound, assistant stage managing, shadowing a director, props construction, etc.
---
Apprentices will also be charged with collectively producing several 'second-stage' projects of their choosing throughout the year. Past examples include one-act plays, 24 Hour theatre festivals, actor showcases, etc. Such projects provide excellent opportunities for aspiring directors, producers and playwrights, as well as actors.
As one can see, the company apprenticeship is designed to develop new graduates holistically, through a process of mentorship and hands-on experience, with the aim to equip such emerging artists in all of the different aspects of working in professional theatre. These 'Renaissance Persons' should exit the program with the marketable skills to succeed in any number of industry positions, and with a deep, thorough understanding of the aesthetics, philosophies and tasks involved in the creation of meaningful, viable and excellent theatre.
Apprenticeships generally span eleven months from August to June. A modest living stipend of $1,000/month is available.
---
To Apply
Successful applicants will have read our "About Us" section, as well as looked at our past productions, to comment on what draws them to Pacific Theatre as a company.
Please note that due to Canadian Immigration Laws, we are only able to accept applicants who are already legally permitted to work in Canada.
Submissions should be made to Andrea Loewen at cara@pacifictheatre.org.
PLEASE INCLUDE:
-A headshot
-All relevant resumes (acting, production, general work experience, etc.)
-A letter of intent detailing reason for applying, why you want to work with Pacific Theatre, and what you hope to get out of an apprenticeship (REQUIRED)
Applications due by March 30, 2018.
The Pacific Theatre Apprenticeship Program is generously supported by the Y.P. Heung Foundation.