Employment
We are currently hiring a Publicist and Marketing Assistant! Please see the job information below, or download the job description and call here. Application deadline: July 18th.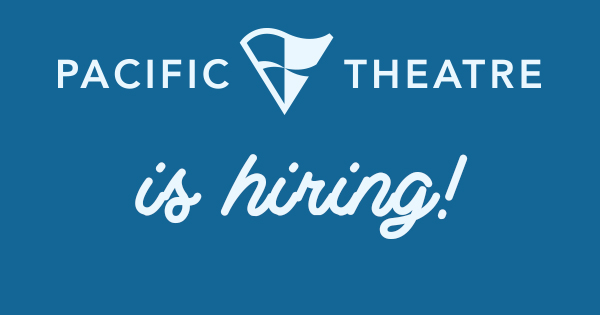 Publicist and Marketing Assistant
Reports To/Works Alongside:
• General Manager
• Artistic Director
• Director of Marketing
Purpose of the Job:
To raise the profile of Pacific Theatre as a company, and increase awareness and sales for individual productions through media relations and promotional activities.
Primary Responsibilities:
• Work with Marketing Director to create promotional plan for Pacific Theatre and individual productions
• Create relationships with journalists and editors at a variety of media outlets
• Generate press interest in shows for preview articles, interviews, and reviews
• Help spread word about shows through direct outreach to community groups
Secondary Responsibilities:
• Manage and maintain an up-to-date media list
• Write and distribute press releases and PSA's to pitch stories about Pacific Theatre events
• Research and write press kits
• Work with Director of Marketing to coordinate photo and video shoots
• Communicate with media about Pacific Theatre's events and activities
• Invite media, artistic directors, and others to opening nights
• Track and archive all media and social media coverage
• Execute and maintain all event listings for Pacific Theatre events on various listings shows
• Reach out to and communicate with various community groups who may be interested in productions (in collaboration with Group Sales Manager)
• Write and send e-blasts
• Handle all distribution of posters and postcards
• Potential for additional responsibilities of writing blog posts and basic photography and/or graphic design, depending on skills and time
Physical Demands:
• Can accommodate most physical restrictions – let us know what you need
Working Conditions and Environment:
Pacific Theatre has a small, friendly, open office environment, with a significant focus on team dynamics and mutual support.
Knowledge and Skills Required:
• Experience and/or education in media relations and publicity
• Excellent writing skills
• Creative thinking and ability to find interesting story angles
• Excellent interpersonal skills, ability to build relationships and comfort making "cold" communications over email or phone
• Able to meet deadlines
• Intrinsically motivated and able to self-manage
• Interested in contributing to and being an intrinsic part of a team
• Basic photography and Photoshop/Indesign skills an asset
Additional Notes
Salary: $22,000/year
Hours: 30/week
Holiday: Bank Holidays plus 2 weeks in the first year
Health and Dental benefits package option
Subject to 3-month probationary period
To Apply
Please contact Andrea Loewen at andrea@pacifictheatre.org with your resume and cover letter. Please attach or include links to up to three examples of press releases or writing samples, if you have them.
In your cover letter, please be sure to address Pacific Theatre specifically and why you want to work with us. It will be helpful to address the information in our About Us page on our website.
Application Deadline: July 18th