Employment
If you are interested in being added to our call list for crew calls, please email Production Manager Phil Miguel at phil@pacifictheatre.org.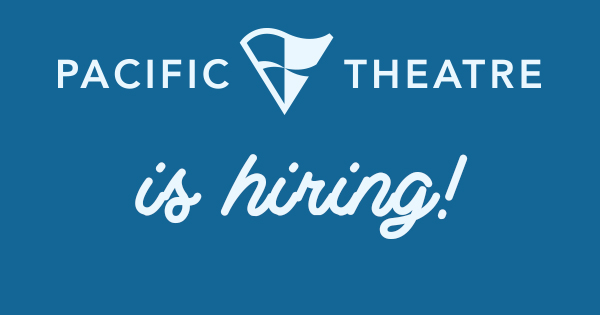 NOW HIRING: Financial and Operations Manager (Maternity Leave Coverage)
Reports To/With:
• The finance committee and the Executive Director
• Consult with Finance Committee and Board President
Job Summary:
Act as accounts payable and accounts receivable, bookkeeper, cash flow manager, payroll officer and budget maintenance. Assist in the daily operational tasks of the company as required. As time and skill allows, operational tasks may include assisting with donor development, or supporting artistic practices through producing duties. If you have skills and interests in the areas of donor development or producing, please address this in your cover letter.
This is a 30 hours/week maternity leave coverage position and pays $15/hour.
Responsibilities:
• Petty cash reconciliation
• Payroll for staff and all production activities
• Accounts payables including creating, signing and delivering all cheques
• Managing Quickbooks, including reconciling bank and Visa accounts, entering deposits, etc.
• Remitting sales tax to the CRA
• Remitting benefits
• WCB remittance
• Monitoring bank balance and managing cash flow
• Managing banking including deposits and transfers
• Assist in ticket projections and calculating ticket and subscription prices
• Process donations, including pledges and monthly giving
• Potential additional duties: donor research and management, coordinating auditions, contracting artists, etc.
Interaction with Patrons and Public:
• Liaising with our suppliers and customers regarding invoices and bill payments
• Assist with customer refunds through the box office
• Weekly Bank Deposits
Physical Demands:
• Can accommodate most physical restrictions. Just let us know.
Knowledge and Skills Required:
• Knowledge of bookkeeping principles*
• Knowledge of Quickbooks Online or similar accounting technology*
• Great data entry skills
• Good communication
• Proficient in Excel
• A basic understanding of CRA practices*
• Analytical mind
• Capable of working autonomously
*May be an asset and not a requirement, as training can be provided
Additional Notes
The duty of Finance Manager/Operations Coordinator is an integral part of the operations of Pacific Theatre. This employee must have a good understanding of all that is required of them and be in constant communication with the finance committee and the Executive Director.
To Apply
Email you resume and cover letter to Andrea Loewen at andrea@pacifictheatre.org. Please be sure to include specific notes about why you would like to work at Pacific Theatre (refer to our About Us page on the website), as well as any skills or interest in donor development or producing.
Deadline for applications: October 27
Interviews: Oct 30-Nov 2
Training Begins: Nov 13 (part-time)
Maternity Leave Coverage Begins: Dec 8
Contract Ends: Dec 31, 2018