Stone's Throw Productions
While operating a fully professional mainstage, Pacific Theatre is also community based and offers non-professional community members opportunities to work along side theatre professionals in its community shows through its non-professional counterpart, Stone's Throw Productions. Most Stone's Throw shows are produced by our season apprentices.
Coming Soon
The Most Massive Woman Wins by Madeleine George
Nov. 9-12 10 PM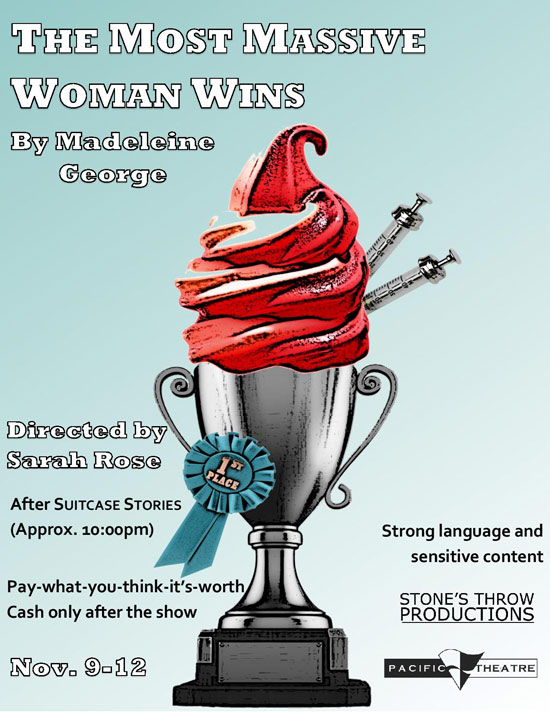 Four women sit in the waiting room of a liposuction clinic. As the clock ticks and the procedure draws closer, memories, nightmares, and schoolyard rhymes begin to intrude, and the women are forced to reckon with their relationships to food, their bodies, and the people in their lives.
Featuring Lindsay Curl, Danielle Klaudt, Paige Louter, and Deb Sears
Directed by Sarah Rose
Running time: 30 mins
Tickets: pay-what-you-think-it's-worth after the show (cash only)
Past Productions
In the Flesh by Paige Louter • Oct. 29th, Nov 3-5, 2016
A one-woman show about learning to be an actor, In the Flesh blends stand-up comedy, performance art, and feminist theatre to create something only slightly less awkward than that one picture of fourteen-year-old you.
Any Night by Daniel Arnold and Medina Hahn • July 8-16
When Anna moves in to the basement suite below Patrick, an unlikely romance ensues. But as she suffers increasingly strange behaviour in her sleep, it sends them both down a dizzying spiral of mistrust and fear.
Something Sacred • June 15-18, 2016
Two stories. True(ish) stories. Questions about what is sacred, Where it breaks, and what is worth holding on to.
The Occupation of Heather Rose • June 15-18
Equipped with a Canada Food Guide, her nursing training, and a heavy dose of optimism, Heather heads out to a remote reserve in Northern Ontario.
Ask/Tell: The Boler Project • Feb 19-March 5, 2016
A ten minute experience taking place in a small Boler (tow-behind) trailer that is parked next to Pacific Theatre at Hemlock and 12th Street.
Little Match Girl by Sarah Dixon • Dec 5, 11, 18, 2015
An exploration of Hans Christian Anderson's classic and heart wrenching children's classic "The Little Match Girl" in a site-specific, outdoor performance.
---
The Drowning Girls by Beth Graham, Charlie Tomlinson, and Daniela Vlaskalic • Nov 18-20, 2015
Bessie, Alice and Margaret have two things in common: they are married to George Joseph Smith, and they are dead.
---
The Stonewater Rapture by Doug Wright • July 8-11, 2015
Two teenagers' sexual awakening has been severely hampered by the fundamentalist fervor that runs like power lines through the Bible Belt.
---
The Taming of the Shrew by William Shakespeare • June 24th-27th, 2015
A glamorous retelling of Shakespeare's controversial battle of the sexes. Trapped in the sexist world of the 1950's, Kate and Petruchio fight each other to escape a world in which neither of them belong.
---
Agnes of God by John Pielmeier • June 11-13, 2015
A pregnant nun, a strangled baby, an inquiring legal psychiatrist, and a determined Mother Superior. A messy and mystical search for the truth.
---
Here Lies Henry by Daniel MacIvor – June 3-6, 2015
A man enters the room with a mission to tell you something you don't already know. A bizarre, unexpected comedy about love, loss, and the body in the next room.
---
Nine by Jane Shepard – Jan 30 & 31, 2014
Two women held in a room and chained by their necks use mind games to keep one another alive. In a dire situation, the only currency is words. Balancing the fine line between power and grace will mean life or death.
---
Almost, Maine by John Cariani – Nov 13 & 14, 2014
One cold, clear Friday night in the middle of winter, the residents of Almost, Maine try to make sense of this strange thing called love. They tumble in and out of love in in unexpected and often hilarious ways. Knees are bruised. Hearts are broken. Love is local and the world is strange in this midwinter night's dream.
---
Gruesome Playground Injuries by Rajiv Joseph – July 3-12, 2014
Gruesome Playground Injuries follows the decades-spanning relationship of an accident-prone dare devil and a corrosive masochist who navigate friendship, love, and the wounds created in between.
---
Crime and Punishment an adaptation by Marilyn Campbell and Curt Columbus based on the novel by Fyodor Dostoyevsky – June 25-28, 2014
Described as a "conversation on the nature of evil," Crime and Punishment is the story of Raskolnikov, a university dropout obsessed with a theory and ravaged by poverty.
---
Selections from Autobahn by Neil Labute – November 20-23, 2013
Selected pieces from Neil Labute's Autobahn, produced, performed, and directed by the company apprentices and emerging artists: Pippa Johnstone, Kenton Klassen, Ryan Scramstad, Frank Nickel, and Kirsty Provan.
---
A Good Way Out by Cara Cunningham – June 12-15, 2013
Kenny is a hardworking mechanic trying to support his family. He makes a few wrong decisions while trying to give them a better life that lead him to trouble.
---
Bride on Credit by Cara Cunningham – Nov 14-17, 2012
Shipping and handling is included in this romance.
---
Left, Right? by Maki Yi – July 12-14, 2012
A mother accepted the traditional role of women while her daughter resisted the very same expectations. Unlike the mother, who never left her place, the daughter leaves for a new place. Then, life in a foreign land changes her perspective on the mother's life. Was her choice right not to live like the mother?
---
Not Everything You Are – June 28-30, 2012
A show about spirits on a human journey. Imagined, collected and performed by the ensemble.
---
A Nanking Winter, Jan 6 & 7, 2012
Irene Wu has dedicated years of her life to researching the invasion of Nanking, China. Through the winter of 1937, the Japanese Imperial Army led a horrific campaign through the streets of China's capital, an event that has been left unknown and untold to the world. Irene is on the brink of releasing her research when her publisher voices doubts about the book.
---
Twice and Twice: The Tennessee Williams Project, Dec 8-10, 2011
Two women in a shabby room, caught in the struggle between where they come from and where they need to be. Accompanied by a hauntingly original melody.
---
The Casino with The Disappearing, July 13-16, 2011
The Casino: Two brothers see if blood is thicker than blackjack in old, mafia-run Las Vegas.
The Disappearing: A middle-class woman looking to disappear finds an unlikely connection with a homeless alcoholic in the alley she finds herself in.
---
The Verona Project, June 29-July 7, 2011
An adaptation of Shakespeare's Romeo and Juliet by Evan Frayne.
---
Letter from a Soldier: My Name is Aslam, April 13-16, 2011
A US soldier stationed in Iraq writes home and finds that caring can be just as hard as not caring as he reflects on his friendships with the locals in Baghdad.
---
The Last 5 Years, July 15-17, 2010
"Would you share your life with me for the next ten minutes?"
---
David Ives Comedy Shorts, May 12-15, 2010
Variations on the Death of Trotsky, Arabian Nights, and The Universal Language
---
Silk Threads
A one-woman show written and performed by Andrea Loewen.
---
The Recession Party: A Fundraiser Variety Show, Mar. 13, 2009
"Since we're all spiralling into a financial abyss, why not have a party?"
---
Vintage Valentines: A Musical Revue, Feb. 14, 2009
"One Night in the Name of Love" at Pacific Theatre!
---
Sticks And Stones, Nov. 6 — 8, 2008
An evening of scenes produced by the Pacific Theatre Apprentices
---
Proof, Jun. 25 — 28, 2008
By David Auburn
---
Three Rings For Michelle, Jun. 18 — 21 , 2008
By Patricia Joudry
---
Twigs, Mar. 6 — 8, 2008
The acclaimed theatre piece by George Furth
---
Sinner / Saint, Mar. 27 — 31, 2007
Three one-act plays — River Bottom Baby by Tina Teeninga, Babel Rap by John Lazarus, Cabbage Head by Julie Jensen
---
Broken, Oct. 26 — 28, 2006
Two one-act plays by Tina Teeninga