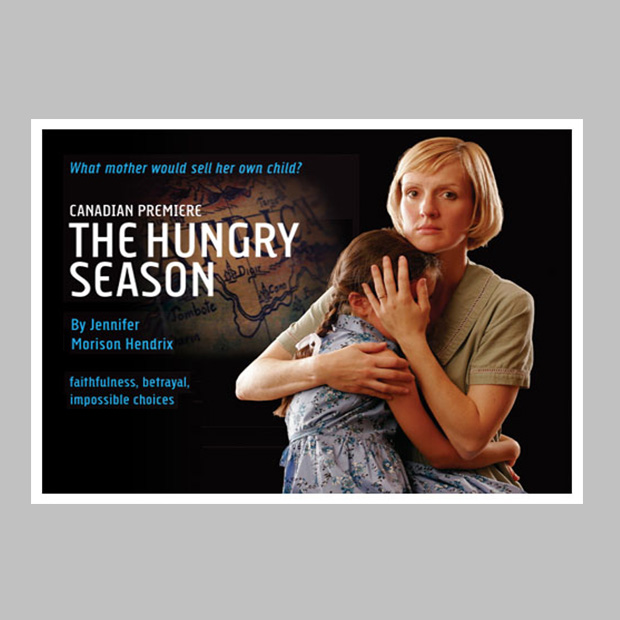 Showtimes
Wednesdays-Saturdays 8pm
Saturday matinees 2pm
Preview January 26, 8pm (tickets only $10)
Added performance: Tuesday, January 31 8pm
Talk Back Night – discussion with artists Friday, February 3
Special Showings
Jan. 27 — Feb. 25
The Hungry Season
by Jennifer Morison Hendrix
Pacific Theatre presents the charged Canadian premiere of THE HUNGRY SEASON by Jennifer Morison Hendrix — the provocative story of a family shattered by higher callings.
A missionary couple returns home from Nigeria for the first time in seven years — only to discover that their daughters no longer know them. A powerful story of faithfulness and betrayal, of clashing cultures and impossible choices.
Challenging notions of vocation and sacrifice, THE HUNGRY SEASON explores the undersides of the church's missionary glories and our culture's obsession with career advancement.
In the early twentieth century the mission field was commonly considered a higher calling, and missionaries to dangerous, isolated regions often had to send their children away. As one 'missionary kid' said about being sent to boarding school, "When your chief competition is God, you can't win — you can't get mad, either."
This unusual drama features the acting prowess of Katharine Venour (Jessie nomination: ST. JOAN), Ron Reed (together again with Venour after last season's powerful SHADOWLANDS), Stuart Pierre (Jessie award, ensemble: EQUUS / The Vancouver Playhouse) Erin Bourke, Lori Kokotailo (PT apprentice), and Chy (last seen at PT in CHICKENS).
THE HUNGRY SEASON is co-directed by Morris Ertman (who helmed past hits ESPRESSO, HALO and SHADOWLANDS) and Anthony F. Ingram (who produced and starred in Five Bob Equity Co-op's THE ELEPHANT MAN), with scenery & lighting design by Kevin McAllister (Jessie nomination: ESPRESSO), costume design by Nicole Bach (Jessie nomination: CHICKENS), sound design by Luke Ertman and stage management by Connie Hosie (who brilliantly ran the smash hit THE FARNDALE… CHRISTMAS CAROL).
This moving new play raises the question, "What does a calling require of us?" says playwright and parent Jennifer Morison Hendrix. "The play doesn't answer that question — because there is no simple answer, not for missionaries, not for artists, and not for mothers and fathers. Sometimes our boldest sacrifices hide a great deal of selfishness. And sometimes our greatest achievements look like failures."
Join Our Newsletter