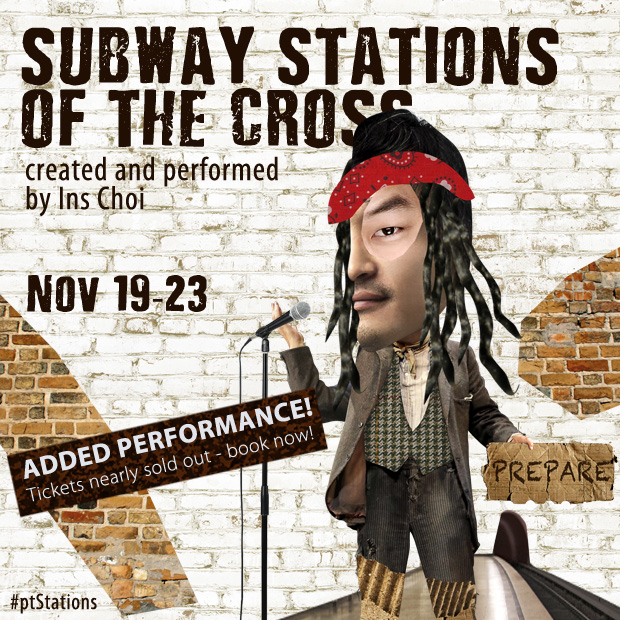 Showtimes
Wednesday-Sundayt at 8pm with 2pm matinee Saturdays and 3pm matinee Sunday
ADDED PERFORMANCE: due to high demand, a Sunday matinee has been added!
Running time: approximately 1 hour
Special Showings
Artist Talkbacks: Thurs, Nov 20 & Fri, Nov 21
Proceeds donated to benefit UGM: Thurs, Nov 20
Nov 19-23
Subway Stations of the Cross
created and performed by Ins Choi
TICKETS GOING FAST! Due to high demand a 3pm matinee has been added on Sunday, November 23 at 3pm.
A homeless man on a cardboard platform brings his own peculiar message from God. An unpredictable, mashed up meditation on the sacred and the everyday, told through the songs, stories, and poetry of a nameless vagabond. Written and performed by the creator of Kim's Convenience.
"A charismatic performance with a gravelly voice and stunned, sometimes stuttered but forceful delivery. Beautiful and challenging." Applause Meter, Best Of 2013
"The mashed up, postmodern style speaks aptly; in our time, the words of the prophets could well be written on the subway walls." Curator Magazine
Featuring Ins Choi
A GUEST PRODUCTION BY INS CHOI IN ASSOCIATION WITH SOULPEPPER THEATRE
Ins Choi will donate all proceeds from Nov 20 show to Union Gospel Mission.
Join Our Newsletter