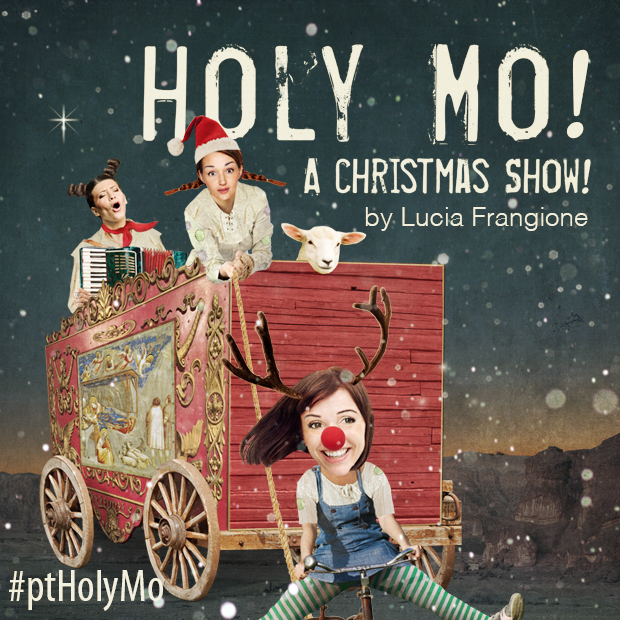 Showtimes
Weds-Sat at 8pm with 2pm matinees Sat
Added Sunday Matinee: Sunday, Dec 4 at 2pm
Running Time: 120 minutes with a 15 minute intermission
NOTE: There will be no performance on Saturday, Dec 2 at 2pm
Special Showings
Pay-What-You-Can Preview: Thursday, Dec 1
Subscriber Appreciation Saturday: Saturday, Dec 10 (following matinee)
Artist Talkback: Friday, Dec 9
Dec 2-31
Holy Mo! A Christmas Show!
by Lucia Frangione
A reverently irreverent re-imagining of the Nativity told with gusto and a questionable commitment to accuracy by three travelling performers. A brand-new musical comedy for the holidays!
WARNING! Side effects of watching Holy Mo! A Christmas Show! may include laughter, merriment, and awkward questions about the existence of Santa.
Watch our trailer!

Directed by Kerry van der Griend.
Musical Direction by Rick Colhoun.
Featuring Lucia Frangione, Anita Wittenberg, and Jess Amy Shead.
Set Design by Heipo Leung. Lighting Design by John Webber. Costume Design by Amy McDougall. Properties Managed by Jess Howell. Choreography by Andrea Loewen. Stage Management by Lois Dawson.
"Wonderfully silly, clownish, wacky, warm, and fun." – The Vancouver Courier, on Holy Mo
PRODUCTION SPONSOR: FLUEVOG SHOES

Join Our Newsletter